home | weekly bulletin | parish blog | community | ministries | history | links | contact


Welcome to St. Stephen's Episcopal Church, "the little church
with the big heart." We are located on Pittsfield's historic Main Street, adjacent to Dustin Park. For driving directions, click here.

Our Sunday worship time is 9:30 a.m.. All are welcome, without exception.


---

Our Mission

We believe that all we are and all we have are gifts from God,
and we are thankful. It is our mission to share the love of God
with each other and with the rest of the world.


---
We update regularly, so "refresh" this page and our weekly bulletin
for content added since your last visit!

NEWS & NOTES

ASH WEDNESDAY SERVICE: Worship with Imposition of Ashes is offered at 7:00 PM March 1st.

CONTEMPLATIVE PRAYER & COMPLINE IN LENT: Starting March 8, join us on Wednesday evenings. Soup served in the undercroft at 6 PM. Contemplative Prayer in the Sanctuary at 6:30 PM ending with the Compline Service.

LECTIONARY STUDY: We resume meetings on March 3rd, and continue meeting Friday mornings at 9 AM with Father Ted. We read and study the lessons for hte upcoming Sunday service. Everyone is invited.

MESSIAH: Study of the Oratorio, covering parts 2 & 3, takes place on Fridays at 10 AM. See Bernie if you want a study guide and to join the group.

SOUPERFEST!: The Concord Coalition to End Homelessness (CCEH) invited us to help with the annual Souperfest on March 18th. with contributions to the dessert selection. They need brownies, squares, cookies, fudge or cupcakes. Each baker is asked to supply 2-3 dozen items. Bernie will coordinate this effort as well as do the pick-up and delivery, so see her if you can help.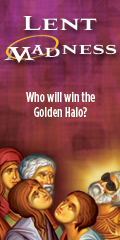 Click here for the Church cleaning schedule through May 6, 2017.




---
home | weekly bulletin | parish blog | community | ministries | history | links | contact


Copyright © 2017 St. Stephen's Episcopal Church
All Rights Reserved.