The Rt. Rev. A. Robert Hirschfeld, Bishop
The Rev. Miriam Acevedo, Priest-in-Charge

home | weekly bulletin | parish blog | community | ministries | history | links | contact


Welcome to St. Stephen's Episcopal Church, "the little church
with the big heart." We are located on Pittsfield's historic Main Street, adjacent to Dustin Park. For driving directions, click here.

Our Sunday worship time is 9:30 a.m.. All are welcome, without exception.


---

Our Mission

We believe that all we are and all we have are gifts from God,
and we are thankful. It is our mission to share the love of God
with each other and with the rest of the world.


---
We update regularly, so "refresh" this page and our weekly bulletin
for content added since your last visit!

NEWS & NOTES

ASHES TO GO ON ASH WEDNESDAY, FEBRUARY 14: Rather than our usual evening Ash Wednesday service, we will provide Ashes to Go on the sidewalk in front of the church. Everyone is welcome to come by that day to receive the imposition of ashes. The Rev. Miriam Acevedo will be outside St. Stephen's from 11 am - 1 pm, so walk by or Drive up and get your ashes. Also, several yummy, non meat, soups will be served downstairs by Sabra and Rita. All Welcome! Free!

LECTIONARY STUDY: Rev. Miriam Acevedo holds a weekly lectionary study on Fridays at 9 AM in the undercroft, to examine and discuss the readings for the following Sunday. All are welcome to attend.

SOX BOX: The Sox Box is ready for donations of new warm socks for adults and children, as well as hats, scarves, gloves and mittens. There will be a December distribution and another in February.

LENT MADNESS: This is a fun engaging way for people to learn about the men &women comprising the Church's Calendar of Saints. Thirty-two saints are paired in a tournament like single elimination brackets. You learn about the saints in each pairing and vote each day for your favorite. Voting is done online at the Lent Madness Webpage and you can follow along at the Lent Madness Facebook page.. You can click the Lent Madness image below to get to their website. Participate and help choose who wins the Golden Halo this year. We have the booklets for each family or individual to participate and will post the brackets on a sheet at the back of the sanctuary.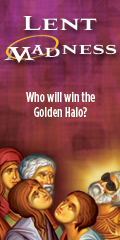 Annual Meeting, January 2018





Click here for the Church cleaning schedule through February, 2018
Click here for the Church cleaning schedule for March through July, 2018
---
home | weekly bulletin | parish blog | community | ministries | history | links | contact


Copyright © 2018 St. Stephen's Episcopal Church
All Rights Reserved.